Here is the video of the Brainstorming Blog Post session – Content Strategy for Beginners or I as like to call it, How to Brainstorm 100 Blog Post Titles in an Hour.
Go ahead and hit play on the video and enjoy watching my hands do their dance. 🙂 You can download the Brainstorming Blog Posts Handout here. Stay tuned through the full session for brilliant free market research using Pinterest and other analytic tools!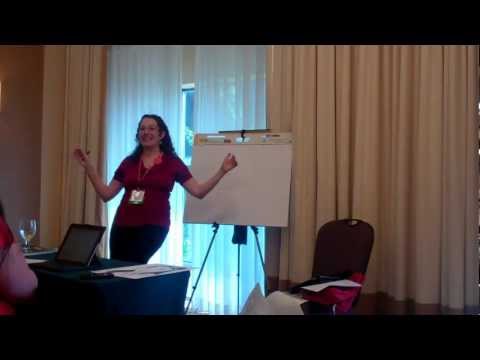 When should you do a brainstorm session? 
I really like to brainstorm for established blogs once a quarter or so. I also recommend brainstorming for a full hour-long session whenever you start a new blog or website.
Rules (Guidelines) of Brainstorming
1. Do. Not. Edit. 
Write now, edit when you type the list up into a pretty list. Spelling? Brainstorming doesn't need spelling.
2. Write it Down!
Please (PLEASE!) don't assume you will remember what you were thinking when that flash of brilliance hits you. Write it down or it didn't actually happen.
3. Don't Worry About Punctuation
Don't even worry about writing the full words. Use "" marks, abbreviations, and misspellings liberally to get everything jotted down.
4. The More You Write, The Greater Your Chance for Brilliance
Don't stop after just 50 ideas. You are likely to discard several of them as you begin to write through your brainstormed ideas. Babe Ruth was not only the Home Run King but he also struck out more than most of the other players of his day. You can be BOTH.
5. Give Yourself Permission to be Dumb
Or better yet – I will give you permission. You hereby have permission to come up with a dumb idea. In fact, go ahead and come up with 100 dumb ideas if that's what it takes to come up with the one brilliant idea that your readers are looking for.
Stealing the Journalism Basics for Brainstorming Brilliance
Who?
What?
When?
Why?
How?
Cover the Basics of Challenges, Influential People, and Best Resources
What are the main "beginner" questions? Have you answered them all yet?
Who are the influential people in your arena?
What are the best resources for this topic area?
Now Move to Your Analytics
Look through your top Landing Pages – do you have  logical next-steps from them to additional information?
What are your top Shared Pages? This is information your readers feel confident in passing along. Capitalize on that by giving them related information to share.
Look at the keywords people are using to find you. Are there any question phrases that were used that you haven't fully addressed? Write it down.
What are the top content pages? Are there similar related topics you could cover to interlink? In my example of how to make sour cream I could create a few recipes using sour cream to link in the post as a way to give readers the ability to USE the sour cream that they make.
Now Head to Pinterest
Go to your blog's source page. For example, here is the page of pins people have pinned from Untrained Housewife. I immediately see that one of my recipes has been pinned to a board "http://pinterest.com/abagailw84/freezer-meals-cooking/" Freezer Meals Cooking. I can see immediately that freezer meals and cooking for the freezer is something that she's wanting to see more of but I think I only have one or two posts on Untrained Housewife about this. So I can brainstorm additional topics based on that one board title.
Also use Pinterest for free market research. See what other websites people are pinning to the same boards they are pinning you to. There may be content inspiration, guest post possibilities, or collaborations from related blogs.
Check Your Comments, Facebook Page and Other Social Media Networks
Any time you have someone ask a question in your comments or social media networks, make it another blog post. If someone offers their variation, unique twist, or alternative use for something you've written about…WRITE. IT. DOWN. Keep your brainstormed list close at hand and add to it throughout the course of the day.