One of the things I attribute my success in building a viable income from home (Number 8 on the list) to is investing in myself through conferences, webinars and other learning opportunities. I know it's not always easy to do so – but in my opinion that's when you need it the most.
I struggled with this for awhile. I used to say "When I make a little more money I'll buy a conference ticket or go to this event" and it took my husband setting me straight to change my perspective. He said, "I think you should consider it an investment and learn what you need to learn to be more successful, more quickly." Logic that was hard to argue with and has resulted in fabulous networking, motivational and learning for me on this journey of mine.
This coming year I'm hitting a couple conferences in person, and I'm also attending a couple online events – a much easier option for me with five little ones at home! February will find me at the Small Biz Success Summit (online event!) and at BlissDom 2012 Conference in Nashville.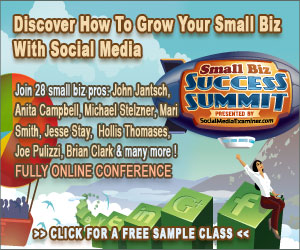 Small Business Success Summit 2012
This online event will run through much of February and all the sessions and learning materials will be available not only live, but also recorded for playback later (or if you miss a session or two). Last year I attended one of the summits put on by Social Media Examiner and I got a lot out of it. I also developed a couple new clients and met some amazing people as a result of the networking that took place in the LinkedIn Group specifically created for registrants. You can check it out and register for the summit here (Note – I get a commission if you register using that link – I hope to see you there!)
BlissDom 2012
I'm super excited about the set-up of this year's sessions and the fact that we'll have built in time for connecting with newbies. This is one conference I'm excited to be traveling to for the learning, connections and community. And also – I need to work on my photography skills and hello? Me Ra hKoh is teaching a full session in the Photography Track!
Sometimes the hands-on help is exactly what is needed to assist you in taking your business to the next level. See the list of amazing BlissDom '12 speakers that have been announced so far – brilliant!
Invest in Yourself!
So, whatever level you are currently at, you can only benefit from investing in your business and taking yourself seriously. Serious entrepreneurs invest in their businesses and we can do the same. If you can make it to Nashville – COME! If you can't, check out the online options available like Small Biz Success Summit 2012. I hope to see you at one or the other…or even both.
What are you doing this year to invest in yourself?