Heather Solos of Home-Ec101 and I are both firm believers in the idea of treating a business like a business. When we had the chance to speak at BlogWorld Expo LA this is precisely what we spoke about.
Here is the slideshow and audio of our presentation. You will find a couple main focuses in this conference session.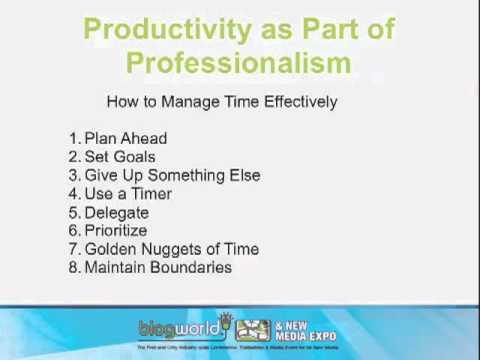 Professionalism as a Blogger
We talk about the benefits of professionalism and why it's important. From there we touch on the hallmarks of professionalism, what it looks like, and how to increase yours.
Blogging at the next level doesn't mean you have to put you into a corporate mold – you can still be yourself and keep a flexible schedule. However, if you want to be paid well for your blogging, you have to make sure that you are worth paying!
Acting with professionalism as a blogger means cultivating the business knowledge and experience that you need (see my list of must-read business and blogging books). Other hallmarks of professional blogging behavior include clear communication, acting with reliability, and knowing where you are heading.
Productivity as a Blogger
The other thing that happens when you are blogging as a business is that you have to get stuff done. Bottom line. You can't not blog for weeks or months at time and expect to be taken seriously in this arena. I'm not saying you have to blog 5 times a day, or even every day. But you should be blogging regularly.
Our tips for getting more done aren't magical in any way. Most are common sense but sometimes you need a reminder. Consider this your friendly kick in the pants. Plan your goals ahead. Prioritize your task list carefully. Delegate wisely and be sure you're making the most of every opportunity. And use your tools wisely – you don't have to do it all on your own with today's level of technology.
I hope you enjoy the BlogWorld Expo presentation Heather and I put together. If you want to see the rest of the incredible BlogWorld Expo sessions from far more experienced bloggers than me, check out the BlogWorld Expo Virtual Ticket where you'll get access to nearly every session.
See all Twelve Steps to Successful Blogging for more in this learning series.
What are your favorite tools for productivity? What areas are you best in when it comes to being professional?